Overview
GOVERNING's 2013 Cost of Government Summit
This September Governing will host this Leadership Summit in the nation's capital, bringing together senior policy leaders, influential thinkers and practitioners to share insights and formulate strategies about how to successfully meet the challenges facing state and local government.
The fiscal cliff, debt ceilings, negotiations, compromises and failed compromises, affect all levels of government. Cost of Government 2013 will examine these impacts and many others. As the economy recovers, what is the effect on the budgets of state and local governments? What progress has been made in tackling the issues of pension and other post employment benefits? What is the role of government in a time when government organizations are being forced to shrink while the needs grow and become more complex?
Join GOVERNING and your peers as we once again examine the Cost of Government.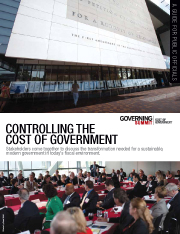 Leaders can't tackle the challenges they face without a plan. The speakers and sponsors of the Summit on the Cost of Government contributed advice and strategies to address the problems government faces.
GOVERNING Guide captures highlights and conversations among leading public officials from the Summit on how to cope with the cost of government in challenging times via a set of plays.
Click Here to view the Cost of Government Guide